If you're a renter, you may be concerned about how to keep your family and belongings safe if your building doesn't have an apartment security system. Security options for those in multi-unit dwellings used to be limited, due to the need to install a wired system. Now, however, wireless home security systems are commonplace, making it much easier for renters to protect their valuables.
You probably have questions about how to choose a security system for an apartment. Do you even need one? What kind of apartment security system should you get? How much will it cost you? I'll answer your questions in this guide and give you tips on how to get started in your apartment security system comparison.
Do I Need An Apartment Security System?
You may have a false sense of security if you live in a multi-occupant community. You would think that having more people around to be on the lookout means a decreased chance of someone breaking into your home, right? Yet, according to the National Crime Prevention Council renters have an 85% higher risk of being burglarized than homeowners.
Many apartment buildings do have some features designed to protect tenants. These may include a gate at the entrance, a locked outside door on the building, and security cameras. Still, with so many people go at work during the day, you shouldn't depend on someone else seeing and reporting a suspicious person. Today's best home security systems are affordable, user-friendly, and packed with great features.
Apartment Security System: What To Consider
There are a few factors to keep in mind as you compare security systems for apartments.
It's best to choose one of the several wireless home security systems on the market. Landlords don't typically allow tenants to install hard-wired equipment because it involves drilling holes into the walls. Aside from that, you'll want to take your system with you if you move.
You may be able to get a discount on your policy from the best renters insurance companies simply for installing a qualifying device. For example, State Farm offers not only a premium reduction but also a discount on certain systems, such as the Canary, one of the best rated DIY home security systems available.
Check with your landlord as well as your state and local laws if you plan to install a security camera outside of your apartment. There are regulations which govern the use of cameras on private property so you'll want to know exactly what you're permitted to do.
Following these tips will help you get the most out of your apartment security system while ensuring that you're compliant with any relevant rules and laws.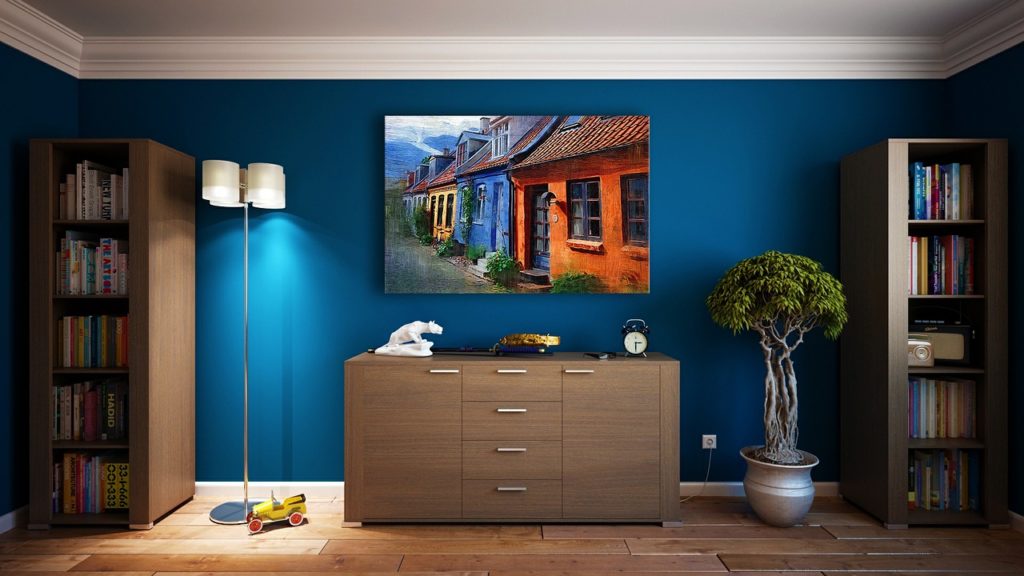 Apartment Security System Options
Fortunately, there are plenty of security systems which work just as well for renters as they do for homeowners.
Monitored Apartment Security Systems
Being a renter doesn't prevent you from getting professional monitoring services. Cellular and broadband technologies allow wireless equipment monitoring with many of the same bells and whistles as a traditional home monitoring system. If you choose this type of system from one of the home security companies which provide such services, they will notify emergency services for you in the event of a break-in.
When it comes to monitored security, you can choose from professionally installed systems like ADT Pulse, or self-install options such as SimpliSafe. Companies that offer DIY installation often provide a guided process in order to make sure you're comfortable with the installation of your equipment. After all, the purpose is defeated if your apartment security system doesn't work properly!
Self-Monitored Apartment Security Systems
If you choose to monitor your own security system, you can still get all of the high-tech equipment you'd expect from a professional setup. The difference is that if your alarm goes off, you'll be responsible for deciding whether or not to call the police and then making the call yourself if necessary.
If you choose a self-monitored apartment security system, having a live streaming camera set up inside your home can help you determine very quickly that you need to call the authorities – or that your roommate came home and forgot to disarm the system.
Apartment Security System Equipment
At this point you may be thinking okay, I know I need a security system for my apartment, so what exactly should that entail? Here are some components you'll want to make sure your system has:
Control panel or hub – this may be a traditional flat unit which mounts to the wall, or it may be an all-in-one hub which houses a camera, sensors, and an alarm siren.
Sensors – these set your alarm off if someone opens a door or window.
Motion detector – this will trigger an alert or the alarm siren if unexpected movements are detected within your apartment. Some companies offer pet-friendly motion detectors to help prevent Fido from triggering a false alarm.
Security camera – one of the most effective tools for monitoring your apartment while you're away is a video camera. Ideally, you want live streaming capability as well as video or image storage in case of an incident.
Mobile app – smartphone apps allow you to do everything from arm and disarm your system, to communicating with whoever is in the room via two-way audio. You'll also receive event alerts via email, text, phone call, and/or push notification. As you analyze apartment security systems, take into account the features you want to be able to control remotely.
Of course, there are other frills available, like home automation integration and key fobs that allow you to disarm your system before you even walk through the door. The above items, however, are the ideal minimum to start out with when you purchase an apartment security system
Apartment Security Recap
Keeping your apartment safe doesn't have to be complicated, or break the bank. Thanks to wireless technology you can have the same benefits of knowing your family and valuables are safe, just as if you were a homeowner. Mobile apps make it easy to keep up with what's happening back on the home front while you're at work or on vacation, even if you just want to make sure your pets aren't wreaking havoc.
Keep in mind that even if you install the best apartment security system available, it's still a good idea to get acquainted with your neighbors. That way you can all keep an eye out for each other, and if your alarm siren goes off, your neighbors will be aware that there could be a problem. This is important as roughly two-thirds of burglaries occur while the occupants are away from home, according to the Bureau of Justice Statistics. Taking a multi-dimensional approach to apartment security can help keep everyone safe and your property secure.
We are sorry that this post was not useful for you!
Let us improve this post!
Tell us how we can improve this post?