Lectures
Just like in a regular classroom, you'll need to listen to or read lectures from your professor. Fortunately, these are often prerecorded and uploaded to your digital platform following the syllabus, or simply posted as notes or a slideshow to be read.
Depending on how your professor runs the class, you may need to be present at the time the lecture is being made or have the freedom to read or listen at your convenience. Lectures are likely to be held everyday or a few times a week.
Completing Assignments
Nobody likes homework, but tackling assignments online comes with some advantages. From your course management software, assignments will be uploaded and made available to students according to dates from the syllabus. If you're lucky, you may even be able to pull ahead and work on future assignments.
Like a standard classroom, you can expect your assignments to come with a deadline which you'll need to upload your work by in order to receive credit. Dependent on what class you're taking, you may expect long-term projects or more involved assignments that require offline work. Reading digital textbooks or articles might also be required to supplement the lecture.
Opportunity for Discussion
One of the most prominent arguments against online education is that you simply don't have the same level of access to your professor and fellow students that you do while on campus.
In a sense: this is true. Learning in a physical classroom allows for a more organic flow of discussion. The professor can field questions in real-time, and you can voice your concerns immediately. It may also be easier to collaborate with your classmates on projects and assignments, or study together for important exams.
Online colleges have made serious efforts to replicate the traditional college experience online, however. Students enrolled in an online degree will likely be required to engage in weekly discussions on course content with the professor or rest of the class.
This may mean posting to a discussion board or participating in group chats held at a specific date and time. There may be a prompt for students to respond to or students may be asked to come up with their own discussion topics. It will vary by class and the preference of the professor.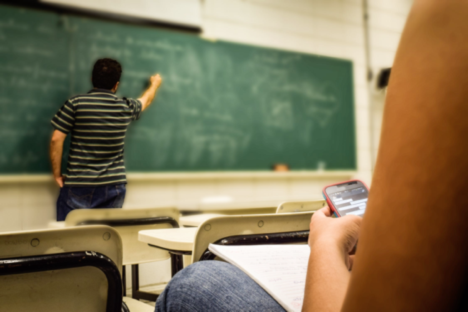 Conclusion
While still a relatively new medium (relative to universities) online learning is a viable solution to earning a degree from the convenience of your home or office. Listening to and reading lectures, doing homework, and talking with your professor doesn't sound so different than any traditional class. In reality, there isn't much mystery behind online classes at all, and you'll find a quality education from talented professors wherever you go.
Of course, there are some things an online college class can't provide that the brick-and-mortar schools can. Stick around for the companion piece to this article, where we dissect the benefits, opportunities, and concerns you might have regarding pursuing an online degree.
We are sorry that this post was not useful for you!
Let us improve this post!
Tell us how we can improve this post?